JUNE 2022 | WHAT'S IN THIS ISSUE?
» At long last, home buyer competition has dropped
» Wallpaper trends for 2022
» 4 affordable cities by the sea

At long last, home buyer competition has dropped
Is the bidding war frenzy starting to calm? Some data this spring suggests that while the housing market is still red-hot, the competition is showing early signs of cooling.
Which means if you plan to buy in the next few months, you may have some breathing room at the offer table.
Costs are up
Housing prices are up 20% from the year before, and the average interest rate for a 30-year mortgage reached 5.57%, a considerable uptick from 3.29% at the start of 2022, according to Mortgage News Daily.
Buyers are less competitive
Those higher costs already seem to be influencing homebuying behavior. For the first time in six months, Redfin noted a slight drop in home offers, from 66.7% in February to 65% in March, suggesting that home offers were still pouring in, but a possible cooling of the bidding wars.
Their analysts took it as a sign that the higher costs are giving at least some buyers second thoughts about whether it's their time to buy.
What's next?
What does that mean for the coming months? Analysts believe the housing fervor will continue to cool. Some homeowners may decide to stay put, while first-time homebuyers may pause their house hunting.
The silver lining for buyers
If you're planning to buy, the silver lining is a possible drop in the competition in your market. So how can you leverage that while you're house hunting?
Above all, consult with a real estate professional. Their real-time perspective on the local market will help you shape the best offer strategy.
Wallpaper trends for 2022
Looking to make your new space special? Making brave choices with wallpaper will certainly kick things up a notch!
Scenic wall murals
Create a new world in your living space with a mural-like design that brings the outdoors in. Horizons and skylines can make even a smaller room feel open and spacious.
Bold patterns
This trend turns its back on the safe and understated, layering in shapes and textures, adding energy to any room.
Graphics
Geometric patterns present a playful option for a statement wall. Go for big patterns and raised-relief effects for maximum impact.
Gather ye roses
Big, dense florals introduce a palate of color and an unabashed feminine flair that hearkens back to 19th century sensibilities.
Jungle-like botanicals
Leafy green patterns that make you feel immersed in a treetop present an innovative approach to creating a refuge in your home
Textural neutrals
Textural elements in wallpaper, whether fibers or embossing, lend an air of timeless luxury.
Super saturated hues
Deep, dark colors, like navy blues and emerald greens in damask prints, add richness and intimacy.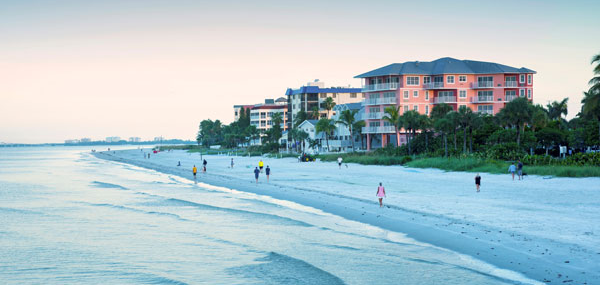 4 affordable cities by the sea
Check out these ocean view locations with their median home prices:
Fort Pierce, Florida — $154,800
Myrtle Beach, South Carolina — $184,675
New Haven, Connecticut — $206,942
Wilmington, North Carolina — $230,400
Source: MoneyInc.com