DECEMBER 2022 | WHAT'S IN THIS ISSUE?
» Should you buy a house that's part of an HOA?
» Winterproof your home before the squall hits
» Cities that sparkle with holiday magic

Should you buy a house that's part of an HOA?
If you have your eye on a newer construction home, it's more than likely that it comes with a membership to a homeowner association (HOA).
For a monthly fee, the association provides maintenance such as lawn care and snow removal. Some HOAs also uphold community standards in keeping with the aesthetic and lifestyle. What are the pros and cons of an HOA?
Pro: Worry-free maintenance
Most HOAs take care of all your yard work. In some cases, the HOA covers major exterior maintenance, such as replacing the roof and siding.
Con: The monthly fee
HOAs add a monthly expense to owning your home, typically between $100-$300. Consider what your budget can handle in a future financial setback, such as a medical bill or temporary unemployment. Falling behind on HOA payments can result in fines and the association can eventually place a lien on your property.
Pro: Higher appraisals
Homes that are a part of an HOA system often fetch higher appraisals when it's time to sell. Living in a neighborhood of well-maintained homes can elevate property values.
Pro … or con? Community standards
This one depends on your preferences! To maintain the neighborhood aesthetic, some HOAs set rules and guidelines for everything from displaying flags to planting flowers to owning dogs. Some go as far as prohibiting open garage doors, or leaving toys or sports equipment outside.
Winterproof your home before the squall hits
When a winter storm hits, the snow, ice and high winds can damage your home if you're not prepared. Below are a few things around your house you may want to consider winterproofing.
Frozen pipes: Expanding ice exerts a force that can burst open the joints and the pipes themselves. Once it thaws, you'll have messy leaks and even flooding to clean up. Reduce the risk of freezing pipes by insulating any interior walls adjacent to the pipework. In the event of a power outage, turn on the water to a slow trickle to keep the pipes from freezing completely.
Ice dams: When snow and ice accumulate on your roof and in the gutters, ice dams can form, creating a place for the melting snow and ice to collect. The resulting icicles and shingle damage can create unwanted leaks and headaches. To prevent ice dams, remove leaves and other debris that collects in the gutters each fall and spring. After a heavy snowfall, go around the perimeter of the house with a snow rake to open space for snowmelt to flow.
Power outage: Losing access to power and heat can set you in a scramble to keep your family warm and fed, particularly if it goes on for several days. Prepare for outages by building an emergency kit — plenty of canned food, flashlights, batteries and blankets. Investing in emergency backups provides a means to prepare food, stay warm and keep your family safe.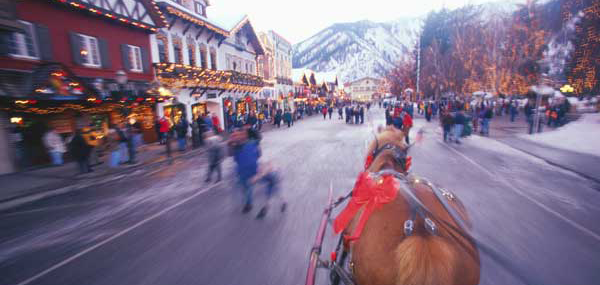 Cities that sparkle with holiday magic
Ready to bask in seasonal magic? Make a stop at one of these locales that go all out with twinkly lights, markets and wonderment.
Ann Arbor, Michigan
Leavenworth, Washington
Durango, Colorado
Asheville, North Carolina
Woodstock, Vermont